Theme of travel:

Family Tour Package for Andaman from Nagpur
Hello Travelers!!! My name is Sayali. My lovely family and I went on our dream trip to Andaman and Nicobar Islands with Dekho Andaman. This blog is about my experience of Andaman Tour from Nagpur, including several tips and tricks for your upcoming trip.
A Backstory of our traveler, traveling from Nagpur to Andaman
In a busy world of today, we often loose connection with our near and dear ones. To build the life that we want, we take our relationship with the people we love, for granted. This was the case with me, I was so busy with my professional life that I couldn't meet my family for the longest time in my life. We all lived in different states and barely each other once a year. 
That's why I took matters into my own hand and booked a family tour package from Nagpur to Andaman and Nicobar Islands with this travel agency called, Dekho Andaman.
How did you get to know about Dekho Andaman ?

I get to know about Dekho Andaman at the Website called Quora, while I was searching for my options of travel agencies. There were so many positive reviews about Dekho Andaman on the website. Also, one of my friend strongly recommended them for our family Andaman Trip .
Flight from Nagpur to Port Blair
In Image : Go Air Flight 
Flight Booked: Go Air
---
Type of Air Travel: Connecting Flight from Chennai
---
Total Duration of Flight from Nagpur: 8 hrs
---
Fare of Air Tickets from Nagpur to Port Blair: Rs8500 pp /-
You can easily check and also compare flights to Andaman from Nagpur in Google Flights 
Popular Family Tour Packages to Andaman From Nagpur:
Itinerary For Our Andaman Family Tour Package
]My Mother, father, younger brother and myself, went on a 5 days family trip Andaman and Nicobar Island with Dekho Andaman. They provided us with an an amazing itinerary for our reunion Andaman Family tour 
This is a glimpse of our tour package to Andaman that we booked from Nagpur, which was of 5 days and 4 nights:
Port Blair – First day upon arrival + Last day of the trip before departure

Havelock Island – 2 days

Neil Island – 1 Day
Exploring Port Blair with Family
Places Covered: Ross Island, North Bay, Cellular Jail Light and Sound Show & Marina Park
DAYS: 1 1/2
DAY 1  the Day we arrived
On the first day of our tour, we landed at the capital of Andaman and Nicobar Islands, Port Blair. After dropping off our luggage at the hotel, we went straight for the water sports activities. My brother and I were particularly excited about this bit.
We went on a boat ride to various beautiful islands like Ross Island, North Bay, etc. We also went on a semi submarine ride, where we get to witness beautiful marine life of Andaman and Nicobar Island. 

After having delicious lunch, we went on to watch an evening light and sound show at Cellular jail, which was absolutely phenomenal. It was great getting to know about Andaman's history, while being physically present at the cellular jail itself. 

After that, we went on quick shopping spree at Aberdeen Bazaar and found out the prices were surprisingly affordable. Then we went back to the hotel and called it a day. 
DAY 5 we departed
On the last day we got back from the Neil Island to Port Blair in a cruise called Nautika. After that, a cab service provided by Dekho Andaman picked us up from Haddo wharf, while we went to visit the last thing on out to-do list, the famous Anthropological Museum. We ended our tour in Port Blair and dropped us back to airport
Exploring Havelock With Family
Places Covered: Radhanagar beach on Day 2 & Elephant Beach & Kalapatthar Beach on Day 3.
Days : 02
Coming from a bustling & hustle city of Nagpur, how can we not cover Havelock Island?
Cruise experience from Port Blair to Havelock Island:
 "We got on a early morning cruise called Nautika, to Havelock Island. The trip was roughly an hour and half, and we enjoyed every minute of it. The morning breeze, the scenic view and the turquoise blue water beneath us, the whole experience cannot be expressed into words

DAY 2 of our tour:
After we reached, we were picked up by the HV Jetty and dropped at our resort. We went for scuba diving. I was absolutely stunned by the mesmerizing marine life and the colourful corals, while I was submerged in the turquoise blue water. The whole experience was absolutely delightful. 
After that, we were dropped back at out hotel in the cab services provided by the Dekho Andaman itself. After that, we went on to witness yet another memorable experience. The 
Experience in Radhanagar beach
SUNSET at the Radha Nagar Beach. The orange gold colour stretches in the sky, as far as I can see. This was the most astonishing view that we witnessed as a family together. 
It's DAY 3
Being far away from Nagpur Nonetheless, we never felt like we are far way from our home made food. We started our day with delicious breakfast. The Resort has a lot of vegetarian, as well as non-vegetarian options. After having a fulfilling meal, we went to HV Jetty and took a boat to Elephant Beach. The best thing was that the tickets were already being arranged by the agency itself, and this made the travelling part very leisurely and enjoyable. 
Experience in Elephant beach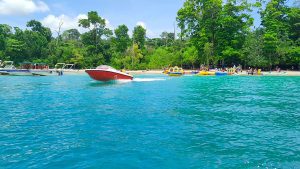 Elephant Beach[/caption]
We spent an ample amount of time at the Elephant Island, observing the pleasing nature. After soaking-in the absolute beauty, we went back at our resort and ended our day early with yet another delicious meal, in order to prepare us for the long day ahead.
Experience in Kalapatthar beach
We visited Kalapatthar beach on the Day 5 before departing to Neil Island. In Nagpur the sunrise happens pretty late & not that good compared to Andaman. So we woke to an eye pleasing view. Post breakfast, we went on with our trip and took a cruise to the one and only, Neil Island
One Day Trip to Neil Island With Family
Places Covered : Natural Bridge, Laxamanpur Beach & Bharatpur Beach
Days: 01 Day
It's DAY 4
After another memorable cruise experience in a cruise called Green ocean, we got off at the Neil Island. Then we went to drop of our luggage at our hotel. After resting a bit at the hotel, we went out to have lunch & explore the best places to visit in Neil for our family tour.
Experience in Natural Bridge
We went to a great restaurant where we ordered a lot of food. After getting our tummies full, we went on with our trip and visited natural Bridge. Natural bridge was one the best places that we've visited in our entire trip. Natural Bridge is nature's formation of a bridge with the help of rock and corals. Just below it, the water was so shallow that you can easily see little fishes swimming in and out. 
Experience in Laxmanapur Beach
After witnessing this nature's beauty, we were all set for Nature Walk in Jungle. We got to evidence a lot of wildlife there. The whole experience was extremely surreal. After this tiring yet interesting activity, we went to relax and watch the sunset together at the Laxmanpur Beach. The sunset was as heavenly as I could possibly imagine. After getting another beautiful view, we went back to hotel. 
Questions & Answers On The Andaman Trip from Nagpur
Flights are the only way to reach Andaman from Nagpur. You can get the tickets online from portals like Easemytrip or Goibibo or contact a flight travel agent to get a cheaper deal on flight from Nagpur to Andaman. You can reach Andaman from Nagpur in 6 – 10 hours depending upon the layover at the airport
First of all, we were absolutely mesmerized by the scenic beauty of the Andaman and Nicobar Islands. The water was crystal clear and the sand was as white as clouds. The surreal natural beauty of Andaman had me amazed to this date. Another thing that surprised me the most was, amusingly, the size of the coconut there, they were amazingly humongous. I've never seen a coconut that size ever in my life
The best thing that we ate on our trip was lobster at a restaurant on Blue Island. We also ordered chicken and other dishes such as dal, and surprisingly, everything was beyond our expectations. Every dish that we ordered, tasted delicious. That restaurant is a must-visit according to me.
Suggestions For Travelers Travelling From Nagpur to Andaman