Night Kayaking in Port Blair (Bioluminescence)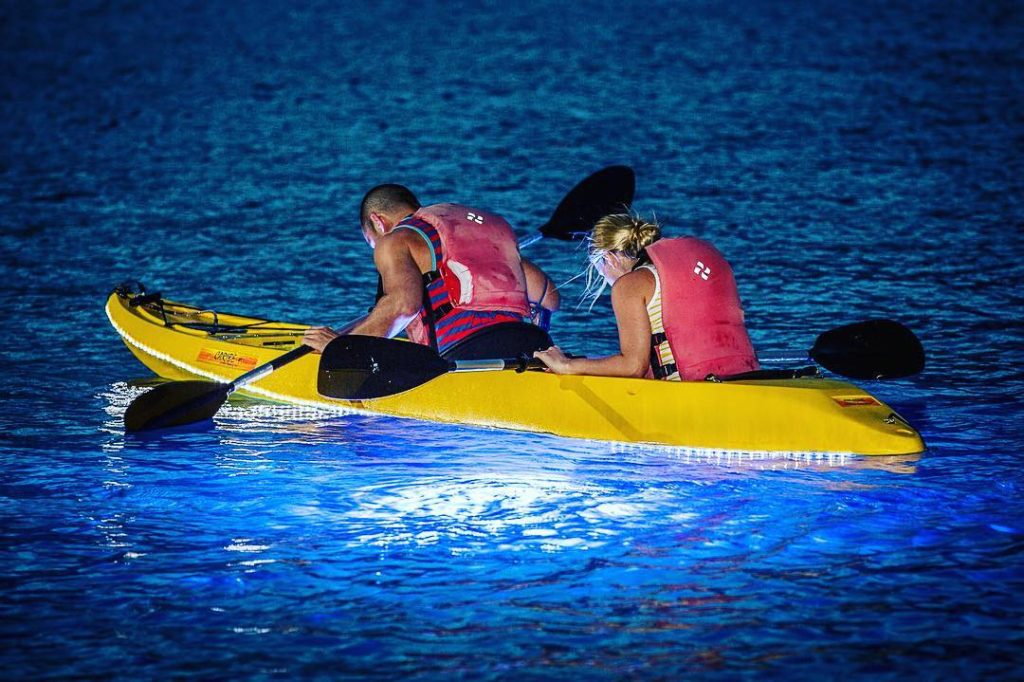 Bioluminescence is the secret behind the most mystic display of the Andaman Sea which can be explored only by kayaking at night and Port Blair is one of the to perform it. Your professional guide will outfit you with the proper training and make sure you're safe on the water, but at the same time you will be allowed to roam freely at your will. The Kayak during night kayaking can be shared by a couple which makes it more fun while giving you an optimal workout at the same time.
All you need is to tie up your hair, wear a life jacket (provided to you by us), take off your shoes , and voila! You are geared up for an amazing night kayaking trip . Are you planning to book a trip to Andaman soon? If yes, why not plan a Night Kayaking and Bioluminescence Tours?
CALL US : +91 6361545390
Does Night Kayaking in Port Blair takes place only on no-moon days?

No. Night Kayaking in Port Blair takes place even on a full moon or half moon days. Only thing is that the bioluminescence effect can be 20-30% less compared to non-moon days.
Highlights of a Night Kayaking in Port Blair:
Bioluminescent effect
Glowing blue shiny waters in the mangroves
Witness the mangroves of Andaman at its best
Witness one of  the Clearest Skies of entire India
Exploring the unknown sea like Pirates of Caribbean in Andaman Islands
Peace and solidarity of Veer Savarkar park as its located far way from Port Blair city
An hour long session of Night Kayaking at Port Blair filled with adventure
Important Points to Note for  NIGHT KAYAKING:
No Swimming Skill

required
Should be above 05 years
Kids above 05 years will be accompanied by instructors only
Kayak have 2 seats which will shared by your partner or team. Instructors will only guide you
Can be performed by anyone who is fit to paddle
Person with Night Blindness are not allowed
The Guests will have to pay extra for Pickup and drop from hotel or plan the transportation on their own
Veer Savarakar Park Facts:
Distance : 25 km from Port Blair
Activity: Night Kayaking
Guide:  1 Kayak Instructor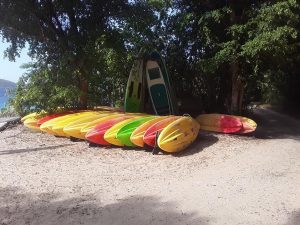 About Veer Savarkar Park :
The Veer Savarakar Park also known as flat bay is opened a year only for Night Kayak & Day Kayak. Since its faraway from the city , the bioluminescence is possible everyday until unless there is a cyclone. This is the only place in Port Blair region where you can perform Kayaking
Time Division for Night Kayaking in Port Blair
Training time: 15 to 25 minutes
Kayaking time: 40 to 60 minutes
Travelling time : 60 to 80 minutes (up and down from city)


Total Time: 3 hours
Slots for Night Kayaking in Port Blair
Slot 1:

6.00 pm – 8.00 pm

Slot 2:

7.30 pm – 9.30 pm

Slot 3:

8.00 pm – 10.00 pm

Slot 4:

9.30 pm – 11.30 pm
Equipment's used while Night Kayaking : 
Torch
Kayak
Paddle
Lifejackets
TRAVELLER RESPONSIBILITY WHILE KAYAKING AT NIGHT IN PORT BLAIR :
All the travelers who are opting for Night Kayaking in Port Blair will be requested to follow the rules set up by the Kayaking Centre and follow the instructions very carefully
DEKHO ANDAMAN PROMISE
If you are Looking for Night Kayaking then don't worry on price as Dekho Andaman will get you the cheapest price possible. We guarantee you the safety and authenticity of the activity.  All the instructors of Kayaking are well trained by the National Institute of Water Sports of India and are authorized by the Andaman administration to perform Kayaking in the waters of Andaman
Why Travel with Dekho Andaman
Drive from your hotel to Veer Savarkar Park located 25 km from the city of Port Blair in  a place called Chouldari. It will take 40 minutes for you to reach as the roads are empty through out the day
Reach the park and meet our Kayaking representative . If you are travelling on your own you can make the call to our representative who can guide you the way
Kayaking Instructor will greet you and within few minutes our training session will start on the near by land
In the training few basic things will be taught which will be for 15 to 20 minutes.
Complete the training and you will be made to wear the Life Jackets. You will be boarding the 2 seater Kayaking from the floating jetty
Your trip will start lead by your Kayaking instructor.
Paddle the kayak towards the mangroves whose waters will have hidden wonders for you.
After paddling for 20 minutes you will reach the point and suddenly you can see the patches of the waters beginning to glow and which increases on intensity as you go deeper.
You can take some clicks and start exploring some other zone of the sea. You will also be mesmerized by the night sky with its glowing uncountable stars.
Enjoy the serenity and the wonderous nature. Start back towards the floating jetty .
The kayaking team will meet you there and take off your life jackets. Handover the paddles and hop out from the Kayak.
Start back towards hotel
Note: It might get late sometimes and most of the restaurants in Port Blair closes by 10.00 pm so it is suggested for the guests to inform your hotel to keep food or you can have early dinner this day
Kayaking Equipments

Kayak

Kayaking Instructor

Guidance of Dekho Andaman Team

Bioluminescence watching
"Pay Only after arrival"
Pay a token amount and confirm your tour without getting worried about the last minute cancelations. 
"Flexible Trips"
No need to follow strict schedule on Touring days. All the activities and tours are easily flexible as per the client needs.
Booking Policy
Payment shall be made as per the payment schedule:
50% of total cost for booking to be paid
50% remaining amount to be paid before the activity starts
Though we encourage our clients to pay the maximum amount to avoid any hindrance and unwanted delays in the trip once it began
Payment can be made either online via:
Credit cards issued by banks and financial institutions that are part of the Visa &Master Card .Other international cards are also acceptable
Visa & Master Card Debit cards for Indian Travelers;
UPI (PhonePay, Gpay, PayTm)
Net banking (NEFT or IMPS)
Please check the Confirmation Policy and Cancellation policy below
Cancellation Policy for Night Kayaking
If you cancel the Activity service you booked, cancellation fees will apply. A cancellation will only be effective when we receive written confirmation or email or Watsapp of the cancellation. If you cancel a trip:
Before 24 hours  – No amount will be deducted & you will receive your entire amount
Between 0 - 24 hours – 50% of the deposited amount will be deducted
Confirmation Policy Night Kayaking 
After the confirmation of package via email or WhatsApp , the customer will ask to deposit the initial amount of 50% of the total amount 
A confirmation voucher will be generated and send to your respective email or WhatsApp  once initial the amount is received. Confirmation voucher will be in PDF format and it will have your Kayaking ID & Name of Instructor and also the amount you paid .The balance amount mentioned has to be paid as per the terms
FAQ on Night Kayaking Port Blair
How Good is Night Kayaking in Port Blair?
Night Kayaking in Port Blair is equally good as compared to Havelock Island Night Kayaking. Just that Havelock island has become a trend for water sports , people prefer to do Night Kayaking in Havelock
Would we actually be able to see the Bioluminescent effect ?
There is no better way to witness the magical bioluminescence in Andaman islands then to perform Night Kayaking here. You will be able to see in bioluminescence in Port Blair waters in abundance
How can we reach the Kayaking spot in Port Blair?
The place where night kayaking in Port Blair takes place is located little outwards from the Port Blair city. You can book a cab service in Andaman at a reasonable price to reach to the Night Kayaking spot in the outskirts Port Blair.
How safe is Night Kayaking?
Bioluminescence Night Kayaking is safe as any other water sports of Andaman islands including Scuba , Sea Walk or Jet ski. You just have to learn , how to row the kayak with the paddle. Its definitely one of the easiest activity to try .
Would I get a guide/instructor?
A qualified Kayak instructor will be provided to guide you in your entire Night Kayaking trip here, so that you can witness the bioluminescence in Port Blair in the best way possible.
How long is a Kayaking session in Port Blair?
Once you get on to the Kayak after completing the training, you will have the Kayak for at least an hour.