Best Places To Visit In Andaman 2023
Plan your 2023 trip to Andaman and Nicobar Islands with Dekho Andaman's travel guide on "The Best Places to Visit in Andaman"!
Andaman Island As A Tourist Destination
Andaman is a very popular destination among travelers due to its highly hospitable locals and ultra-safe environment. Despite the fact that the island is not accessible by road, Andaman still receives almost 4 to 6 lacs tourists every year.
Our team of local experts has put together this travel guide on the best places to visit in Andaman, helping every traveler down here.
The best way to reach this beautiful islands is via flight. You can easily book flight to Andaman from EaseMy Trip or any other flight booking platform online including MMT, Cleartrip etc. You can also take assistance from local tour operators for booking the travel tickets
When it comes to visiting all the places in Andaman and Nicobar,the ideal time to visit is from October to January when the weather is dry and pleasant, with temperatures between 22°C to 30°C. Few unexpected days of rainfalls are common though
For water sports enthusiasts, February to April is a great time to plan your visit as there is no rainfall and the sea is calm. The summer months from April to June are also a good time, but remember to pack light clothing and sunscreen due to the hot and humid weather.
 Although the monsoon season from July to September is not recommended for travel due to heavy rainfall and rough seas, some visitors may enjoy the romantic charm of Andaman during this period. So, plan your trip wisely to make the most out of your Andaman vacation.
Fact:
Do you know there are 572 islands in Andaman & Nicobar Islands. But only few of them are easily accessible or famous among travelers. Keep reading to know more
Famous Towns For Tourist Spots In Andaman: In Images
While there are numerous islands , its important to note that not every one of them is geared towards tourism.
However, there are 4 towns and a city that offer excellent accommodations, modern infrastructure, reliable network coverage, various activity options and easy accessibility, making them the top tourists spots here
Let us give you a glance on tourist places in Andaman and Nicobar islands that are famous. Check the images below.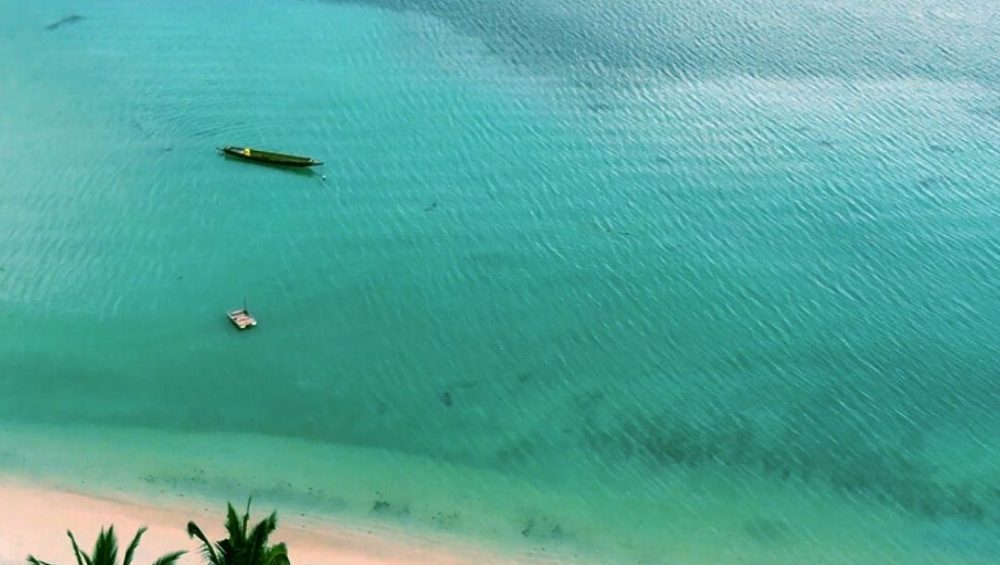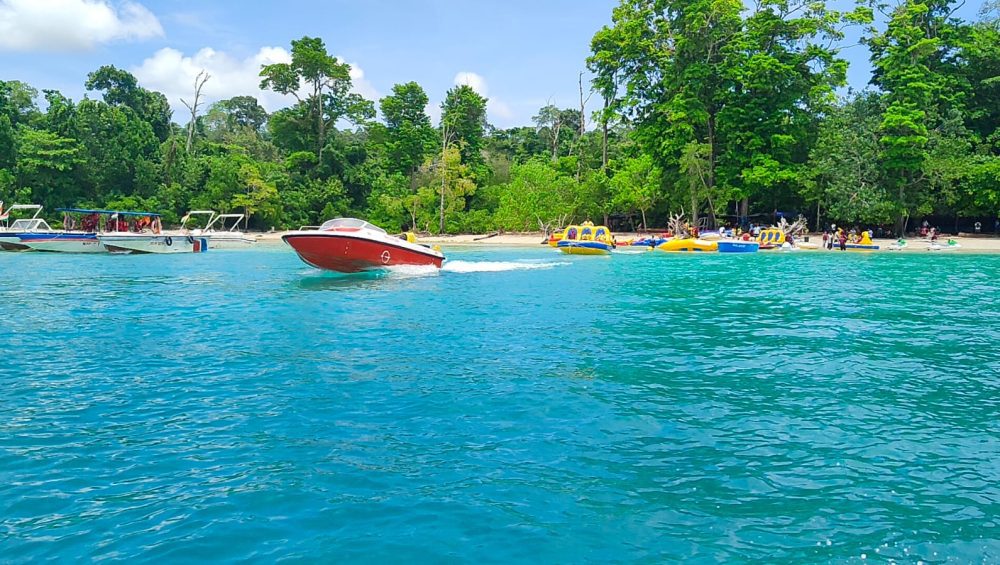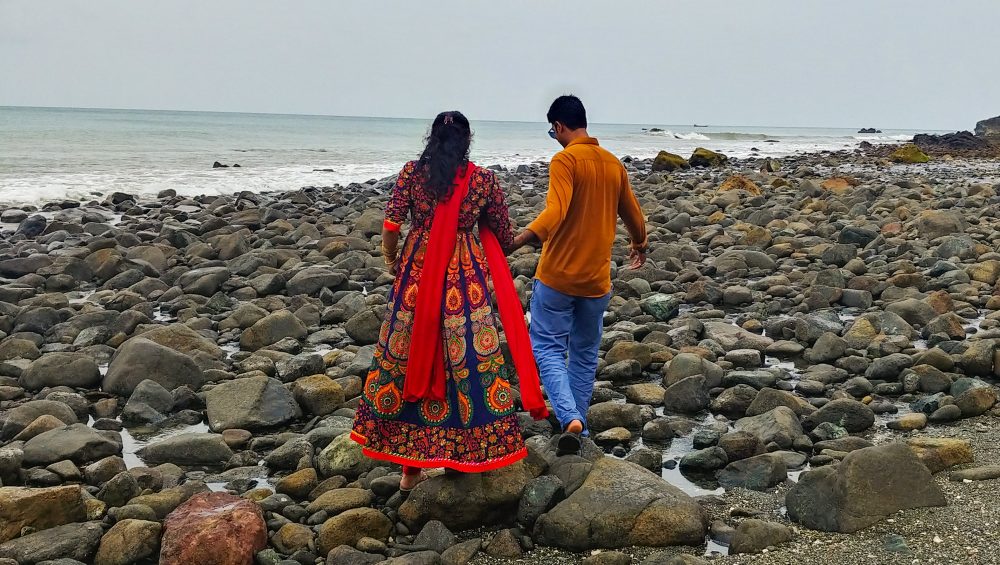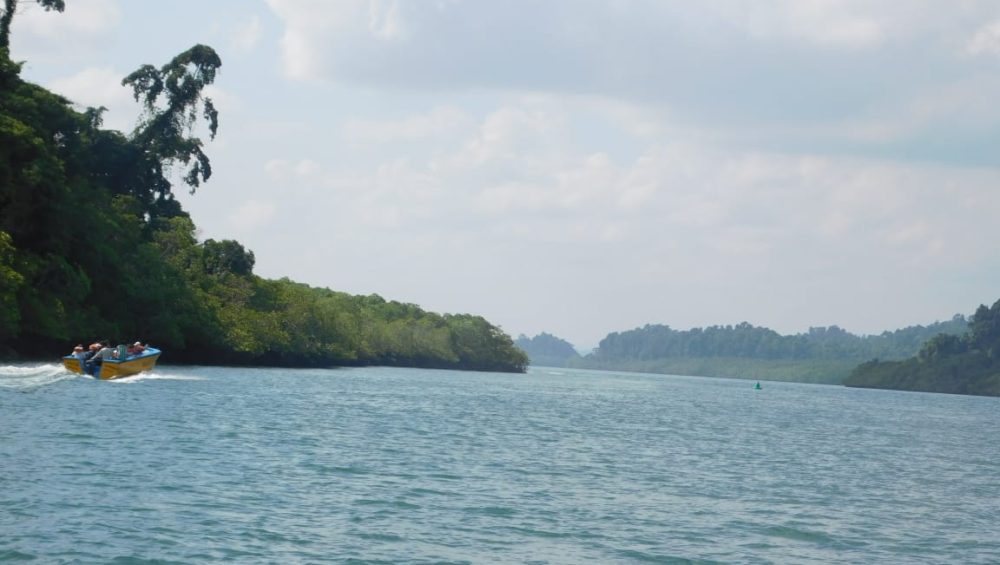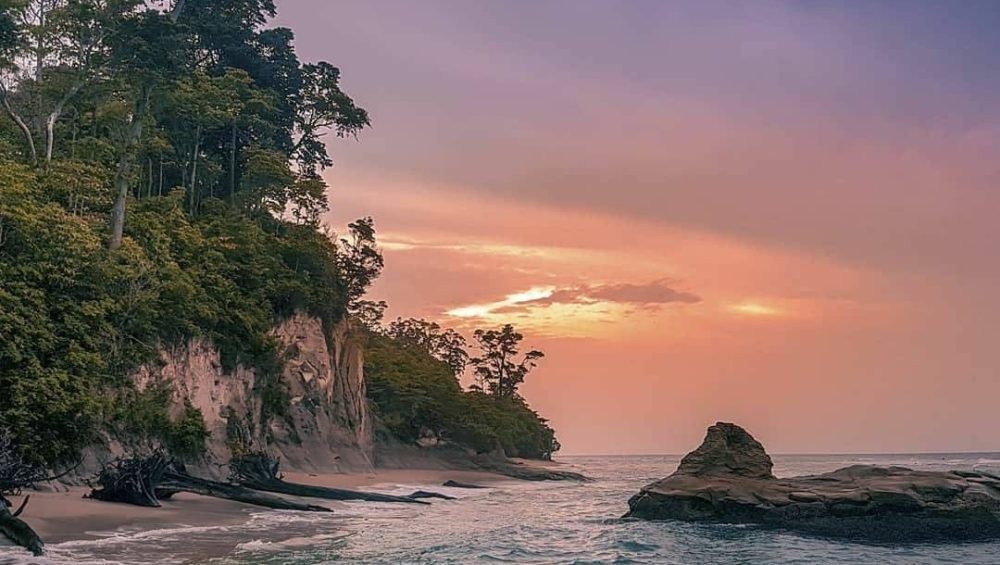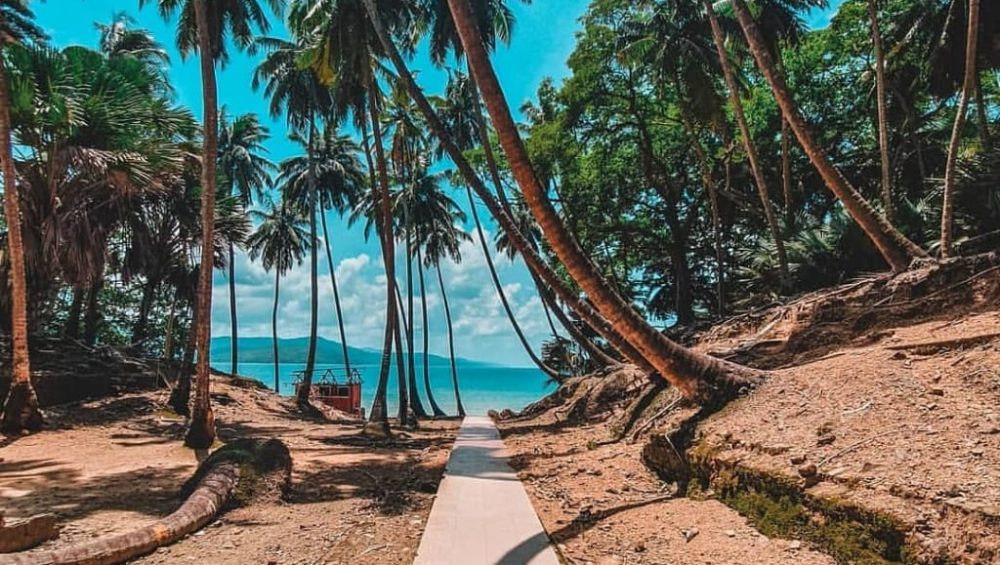 Best Places To Visit In Andaman Islands: Quick Guide
Hope, now you have a brief understanding on how the places in Andaman looks
Following is the list of tourist places of Andaman and Nicobar Islands. This table about different places to visit in Andaman shall help you to make a more informed decision on your Andaman sightseeing itinerary 
Towns of
Andaman

How to Reach

Famous Tourists Spots Of
This Place/Island

Days To
Spend

PORT BLAIR

(Capital City)

 

Direct lights from
Chennai, Kolkata &
Bangalore.

Connecting flights from
Pune, Mumbai, and
Hyderabad etc.

Cellular Jail, Ross Island, North
Bay, Museums, Chidyatapu Beach,
Museums & Much more..

3- 5 days

HAVELOCK

 

Private & Govt. Ferries
from Port Blair

Radhanagar beach, Kalapatthar
Beach, Elephant beach,
Nemo beach for Diving

2-3 days

NEIL

 

Private and Govt. Ferries
from Havelock

Govt. ferry from Port Blair

Natural bridge, Bharatpur
Beach, Laxmanpur Beach
& Sitapur

1-2 days

BARATANG

 

Cab service from Port Blair

Bus services from Port Blair

Limestone Cave. Parrot
Island, Jarawa's Tribal 
Zone & Mud Volcano

1 day

DIGLIPUR

Cab Service from Port Blair
& bus services from Port Blair

Govt. Ferries from Port Blair 

 

Amkunj beach, Ross and Smith
Island, Dhanninallah Bridge,
Alfred Caves, Kalipur Beach,
Panchwati Wateralls
3-5 days
Tours in Places of Andaman Islands
Andaman and Nicobar islands has been blessed with blissful & untouched towns. Visit all the tourists places here with our various multi day & single day tours 
Itineraries for Visiting Places in Andaman
For exploring places in Andaman as per your choice, you have different set of itineraries in terms of Days. Explore some of the best tours here
Shorter trips are also possible: While 6-7 days are recommended, it's still possible to have a fulfilling trip to Andaman & Nicobar Islands with a shorter duration, such as a weekend getaway or a 3-4 day trip. However, visitors may have to prioritize their activities and destinations to make the most of their time. To cover all the tourist areas of Andaman Nicobar, 10 – 12 days of trip is instructed
Getting Around Places in Andaman Islands
You can pre book cab services in Andaman as there is no Ola or Uber. Renting a 2-Wheelers is an another popular option in Havelock & Neil Island. 
Since, all the towns and city of Andaman Nicobar Islands are small, the budget conscious travelers can opt for bus services . However the bus services may not be reliable as the other transportation options.
Hotel Booking in Andaman Islands
In the Andaman Islands, you can find a range of options catering to diverse preferences and budgets. Whether you prefer luxurious resorts or cozy guesthouses, you can find something that suits your needs. If you need assistance in choosing the perfect hotel, feel free to reach out to us. We are here to provide you with expert suggestions and help you make the best decision for your stay.
When it comes to beach resorts in Havelock, the resorts at Vijay Nagar's White is the most preferred option for many visitors. Here, you can find both 4-star resorts offering high-quality hospitality and also small seaside cottages by the nature. It's convenient to have both options available in the same place. Govind Nagar Beach is another excellent location to consider for accommodation.
Cottages by the beach are the most popular choice in Neil Island. If you are looking for luxury on a budget, you can select Pearl Park, Aquays, and Coral Garden resorts for your stay. For high-end service, Sea Shells is a recommended option.
Port Blair city is a hub of hotels. It is always a great and smart choice to stay near the city, allowing you easy access to all the monuments and shopping areas. You will find a range of options, from 5-star resorts like Sinclair's and ITC Welcome to mid-range hotels like Grand Paradise and Olive Suites, located in the city center. However, there aren't many resorts available in this area.
CONTACT US
If this travel guide is not enough. And you want an expert travel advice to help you plan an Andaman trip. Then here we are for you !
Tourist Places In Andaman Nicobar : Info Centre

The Andaman Islands have 25 – 30 popular tourists spots that cater to tourists. These tourist places of Andaman spots are easy to get to and see on your own. 
Also, you can take help from a local tour planner for the sightseeing of any spots of Andaman and Nicobar islands.
Different Types of Attractions in Andaman Islands:
The reason for Andaman being one of the best places to visit in India are due to its White Sands beaches, Sunsets & Sunrise, Natural Attractions, Off Beat Islands, Water Sports, Volcanoes, Natural forests, Museums & History
Here we have the given information on every
andaman nicobar tourist places
that you would like to visit in your Andaman tour.
Best Beaches In Andaman For Evening Visit
1. Radhanagar Beach:
The reason why this beach is always the most visited place in Andaman is due to its blue water and powdery white sand. The sunset from here is a sweet treat to travelers' eyes. The beach is so clean that it makes Radhanagar the best sightseeing places in Havelock Island of Andaman and Nicobar Islands. 
Radhanagar Beach Details:
2. Chidyatapu Beach:
This beach is located towards the outer side of Port Blair, almost 25km from the center of the city. Chidiyatapu is famous tourists attraction known for its Botanical garden trekking, trails, glorious sunsets, and picnic spots.  The famous trekking spot of Munda Pahad is easily approachable from the beach  
Chidyatapu Beach Details:
3. Laxmanpur Beach:
This beach has the nearest sunset point that offers you the best view to spend time with your life partner or loved ones. You can quickly reach this place because it takes hardly a few minutes from the Neil Jetty to get to this sunset beach and catch the moments.
Best Beaches In Andaman For Sunrise
4. Kalapatthar Beach:
The other top sightseeing place for tourists to visit on Havelock Island is Kalapatthar Beach. With its unique characteristics of silky sand and black rocks, you will also find this beach to be more calm and quiet in ambiance. The Kalapatthar beach should be visited early in the morning, as its sunrise is pretty beautiful. 
Kalapatthar Beach Details:
5. Sitapur Beach:
Sitapur Beach is also known as Sunrise Beach, and you can see beautiful and fantastic golden sunrises at this beach. This place is known as the safest beach to swim. In addition, you can find a few smaller shacks places to get foods. 
EXPLORE BEACHES OF ANDAMAN WITH THESE TOUR PACKAGES 
Best Place For Water Sports in Andaman
6. Elephant Beach:
Elephant beach is the most exciting & adventurous place to visit on Havelock Island. Here, you can engage in snorkeling, banana boat rides, swimming, speed boat, and many other exciting activities. It is one of the most favored tourists spot of Andaman among water sports enthusiasts.
Elephant beach has to be reached by Boat or a jungle trek
7. North Bay:
North Bay Island is located near Port Blair and is famous for its beautiful underwater corals. 
North Bay Island comes at the top of sightseeing places in Port Blair due to its famous lighthouse which is displayed on an older twenty rupee note of Indian Currency. North Bay beach is the most preferred tourists place to try Semi Submarine glass bottom  & Dolphin boat ride
8. Bharatpur Beach :
Bharatpur Beach, located on Neil Island, stands out from other beaches on the island due to its wide range of water sports activities. From scuba diving (boat diving only) to snorkeling and banana riding, Bharatpur Beach offers something for every thrill-seeker. It's no wonder that this beach is considered one of the top sightseeing spots in the Andaman and Nicobar Islands. So, if you're looking for adventure and excitement,
make sure to add Bharatpur Beach to your itinerary.
9. Corbyn's Beach :
Corbyn's Beach is one of the best beaches in Port Blair and also one of the smallest beaches in Andaman Nicobar Islands. It's a very famous picnic spot among travelers & locals too. This beach has Japanese bunkers as well very famous for Water Adventures. It is one of the most visited beaches in Port Blair. Most of our Andaman tour packages cover Corbyn's Cove which we visit on the first day of the tour
Natural Attractions of Andaman
10. Natural Bridge (Laxmanpur Beach 2):
We already discussed part one of Laxmanpur beach. Now, this part of the beach is called Natural Bridge. This sightseeing spot has a few yet natural arc bridges made up of corals. So, you can enjoy the view and scenery of marine life, and this beach has low tides and walkers like that. The natural bridge is the signature Point of Neil Island & also the Andaman Islands' most unique sightseeing place
11. Baratang Island (Limestone Cave & Mud Volcano) :
This Island is also famous as RANCHIWALAS ISLAND. This place is 100 KM away from Port Blair, and it's renowned for mud volcanoes and limestone caves. If you want to go to caves and explore them, you have to book a speed boat.
One can also spot Jarawas (one of the tribal people of Andaman) as we have to cross the tribal zone area of Andaman while on the way towards Baratang island
National park & Sanctuaries of Andaman
Andaman and Nicobar Islands is well known for it s sanctuaries. There are many animals & plants which are endangered and has been protected under the Wildlife Protection Act. These places are now very famous tourists places of Andaman 
Important Floras & Faunas in Andaman and Nicobar Islands:
Famous Animals, Birds & Fishes:
Turtle, Dugong, Elephant, Great Crocodiles, Adaman Teal, Megapode Nicobar
Famous Floras & Reefs:
Mangroves, Coral Reefs, Padauk Tree, Bamboo, Cane, Gurjan, Mahogaas
12. Jolly buoy Island:
Jolly Buoy Island is a small, plastic-free island located in the Mahatma Gandhi Marine National Park in the Andaman and Nicobar Islands. It is accessible by ferry from Wandoor Jetty and is one of the most popular tourist destination for its clear waters, & abundant marine life
The island is a world-class snorkeling spot, with visibility underwater up to 50 feet on a normal day. Visitors can also enjoy swimming, sunbathing, and glass-bottom boat tours.
More information on Jolly Buoy Island can be found at https://southandaman.nic.in/tourist-place/jolly-bouy/.
Jolly Buoy Island Details:
13. Mount Harriet:
Mount Harriet National Park is a national park located 11 kilometers from Port Blair city. It is famous as the background photo of the Indian 20-rupee note. The park is home to a variety of reptiles and many species of plants.
It is the highest point in Port Blair, and one can witness the entire Bay of Bengal from here, including North Bay, Ross Island, and even Havelock.
The park also has many eco-huts made from trees and bamboo. One can reach here in a cab via a vehicle ferry from Chatham.
14. Cinque Island:
Accessible only via dinghy from Chidyatapu beach, its an untouched destination. The white sand beach of this island is nothing less of a wonder. The fish life around it enormous. So, the game fishing trip are organized by the vendors regularly near to Cinque. Since its a designated marine sanctuary, one need to acquire special permissions from various department to plan a trip here. 
The charter boat trip here can cost up to Rs50, 000 per person and it takes 2 hours to reach
15. Snake Island:
A small wild life sanctuary located just opposite to the Corbyn's beach. The highlight of this island is that its just 200 m in length and 30 m in width, and you one can see bushes coming our from the middle of the island. No one is allowed to get n to the island , but travelers can explore the vicinity of island in a speed boat. 
Earlier it was also a very famous diving spot. But due to the restrictions and protections of the island underwater activity has been closed around it for sometime
Monuments & Historical Places of Andaman
16. Cellular Jail:
Built during the period of Colonial Rule in India by the British, the Cellular Jail, also known as Kala Paani, is considered one of the top tourist spots in the Andaman Islands. This former prison has been certified as a National Memorial and offers visitors a glimpse into India's tumultuous past. You can book tickets for the light and sound show through the Andaman and Nicobar Govt. portal and experience the captivating history of this iconic landmark firsthand.
17. Ross Island:
Ross Island is a must-visit destination for those interested in history. Formerly the administrative headquarters of the British in the Andaman and Nicobar Islands, the island is now managed by the Indian Navy and is home to a museum and various facilities for tourists. The island's colonial architecture, including buildings such as the Chief Commissioner's House and the Presbyterian Church, provides a glimpse into its rich history. Visitors can also explore the island's natural beauty, including its resident deer, peacocks, and rabbits. To get to Ross Island, visitors can take a ferry or speed boat from Port Blair. Every day there is a Light and Sound Show show from 5.00 pm to 6.30 pm
18. Viper Island:
Viper Island is a very small island famous for its Gallows where Indian Freedom fighters were hanged. Now a sightseeing place in Port Blair can be visited via hiring Boats. This Island is spread over 69 acres. Viper island is a frequently visited tourist spot of Andaman until a few years back now remains in-active during most of the season
Museums & Parks In Andaman
Andaman and Nicobar Islands are rich in its history. So, therefore, there is various museum that preserves and exhibits this history. And for all the History Lovers, here's a list of the most famous museums to visit in Andaman and Nicobar Islands for tourists:
19. Samudrika Museum:
This museum is loaded with information about the native settlers and the sea life of the Andaman and Nicobar Islands.
20.Anthropological Museum:
This museum stores a great collection of historical artifacts and information about Andaman's history.
21. Kaalapani Museum:

This museum stores all information about the historical events that occurred in the Andaman and Nicobar Islands.
22. Forests Museum:
The most famous attraction near this place is within the sawmill area, which includes a bunker and a bomb pit for the World War II era.
Off Beat Tourists Spots of North Andaman
23.

Saddle Peak & Lemina Bay:
Saddle Peak and Lamia Bay Beach are two of the most beautiful places in Diglipur town, situated in the Andaman Islands. Saddle Peak is the highest point in the Andaman Islands, standing at a magnificent height of 732 meters.
To reach the peak, one has to trek for about three hours, but the journey through the lush green forests and diverse flora and fauna is a peaceful and calming experience. From this vantage point, one can witness breathtaking views of Burma.
On the other hand, Lamia Bay Beach is the starting point of the trek to Saddle Peak. It is a unique beach with shiny rocks and clear waters. Amazing place for photography
24. Kalipur Beach:
Kalipur Beach in Diglipur is one of the most famous and breathtaking beache in the region. Located at a distance of 20 km from the Diglipur market, this beach is a popular spot for turtle nesting during December, January, and February.
Apart from its natural beauty and turtle nesting, Kalipur Beach is also home to one of the best resorts in Diglipur – the Pristine Resort. The eco-tourism efforts and the conservation work done in the area to protect the turtles have been much appreciated by the travelers
25.Ramnagar Beach
Ramnagar Beach in Diglipur is a secluded beach at a distance of 35 km from Karala Junction. This beach is well-known for its natural beauty, swimming spots, and clean environment.
One of the most striking features of Ramnagar Beach is its cleanliness. The beach is kept in pristine condition, and the sand is a beautiful mix of white and black. Visitors will be impressed with the eco-friendly huts that are designed beautifully by the Andaman administration.
Ramnagar Beach is also a popular spot for turtle nesting during the hatchery season.
26.Alfred Caves 
Alfred Caves in Diglipur, Andaman, is a unique and mesmerizing attraction that is well worth a visit. The caves are located about 25 km from Diglipur town and are situated in a dense forest.
Visitors need to obtain a special permit from the Forest Department. The caves are made of limestone and are believed to be millions of years old.
27.Ross And Smith Island 
Ross and Smith Island is a popular tourist destination in the Andaman and Nicobar Islands. The island is located in North Andaman and can be reached by speedboat from Diglipur. One of the unique features of this island is the presence of a natural sandbar that connects Ross Island and Smith Island.
The Andaman and Nicobar Islands Administration has set up many eco-huts on the island for tourists and enjoy the island's beauty. The island is surrounded by neatly arranged coconut trees, giving it a welcoming atmosphere that resembles a popular tourist spot of Andaman.
You can reach Ross and Smith islands from Ariel Bay Jetty in speed boats. The beach remains open from 10.00 am till 3.0 p0m
Tourists Places of Middle Andaman
28.Amjunj Beach
Amkunj Beach, located at Rangat Island of the Andaman and Nicobar Islands, is a serene and unspoiled beach. The shoreline is rocky and not for swimming. But visitors can stroll around here enjoying the natural beauty of this place. One can easily reach this beach in a cab. A great place to rejuvenate yourself
This beach remains open to tourists all the time of the day and night. Keep precaution while visiting at dark, as there will be less lights around the beach
29.Dhanninallah Bridge (Mangrove Walk)
Dhanninallah Mangrove Walk is a unique tourist spot in Rangat. It offers visitors an opportunity to walk through a well-preserved mangrove forest, which provides a natural habitat for various marine creatures and birds.
Well maintained by the forest department the walkway is around 715 m long and takes 10-15 minutes to reach the beach. The Walkway ends on the white sand beach called Dhanni nallah Beach with emerald blue water
30.Moricedera Beach 
Moricdera Beach is a peaceful and less-crowded beach located in the town of Mayabunder. It can easily be reached by cab or two-wheeler. Since it is visited by very few tourists, the environment here is very clean. With shimmering blue waters, soft sandy shores, and a gentle sea breeze, this beach is a perfect getaway for nature enthusiasts seeking serenity. It is also a perfect place to enjoy sunsets.
31.Panchvati Waterfall 
It's a small waterfall that falls at the ATR on the way to Diglipur. Very close to the main road, during monsoon, you can find the water flowing. Just staring towards the opposite you can see empty beaches with rocks.
Other Notable Towns of Hutbay & Long Island
Sure there are many lesser explored islands in Andaman, but no one comes close to the beauties of Long Island & Hutbay Island. These islands are a wonder of a place. Anyone who is spending 10 – 15 days in Andaman can put this on their sightseeing places to see in andaman list.
So, we have kept a different section for the best places to visit here
Untouched Beauties of these places
32.Butler Bay Beach
Butler Bay Beach is situated approximately 14 km away from Hut Bay jetty, and visitors can easily reach the beach by taking a taxi or a two-wheeler.
This beach is the hub of surfing in Andaman, and one can also explore the White Surf Waterfalls and Lighthouse by trekking, with the help of a guide or locals. The beach is a perfect spot for both family travelers and adventure enthusiasts.
It is recommended to hire a guide or seek assistance from the locals to navigate the area effectively.
33.Guitar Island
Guitar Island is a beautiful and secluded island located south of Long Island in the Andaman and Nicobar Islands.
It is easily accessible by speed boat from the Long Island jetty, and the journey takes approximately 30 minutes. The island is shaped like a guitar, and it is home to a beautiful white sand beach, coral reefs, and a wondrous blue lagoon. Guitar Island is a must-visit destination for anyone who is visiting Long Island.
Since, the island is uninhabited and we have to start back towards the Long Island before the sunset
34.White Surf Waterfalls
Pristine and easily accessible by two-wheelers, this natural wonder is a must-visit spot in Hutbay. Situated 7 km away from Hutbay Jetty, this waterfall boasts 3-4 channels of continuously flowing water around the year. Nestled amidst the jungle, it serves as a habitat for diverse bird species. Nonetheless, the breathtaking views of the waterfall and the surrounding scenery make for a worthwhile visit.
35.Kalapatthar Beach
Kalapatthar Beach is a white sands beach at Hutbay. It's 14 km from Hutbay and just 4 km from White Surf. One can find many limestones and rock formations. The uniqueness of this beach is the natural swimming pool formed by the big rocks.
It can be reached in 2-wheelers or also a cab, but the path is very narrow
27. Lalaji Bay Beach

Lalaji Bay is a hidden gem in the Andaman and Nicobar Islands. It is a beautiful beach with white sand and clear blue water. The beach is surrounded by lush green vegetation and coconut trees, making it a great place to relax and escape the hustle and bustle of everyday life.
The only way to reach Lalaji Bay is by speed boat or by a trek through the forest which will take 60 minutes to reach.
The beach is well-protected by the forest department and you can find a beautiful forest resort attached to the beach
Andaman Sigtseeing with Dekho Andaman
Find and book various single-day and multi-day tours in all the best places in Andaman and Nicobar Islands. Our tours are provisioned in such a way that travelers can book the tours as per their choice.
With the lowest tariffs and ease of booking now explore all the tourist spots of Andaman including Port Blair, Havelock, Neil, and Diglipur with our various services.
Best Sightseeing Tours in Andaman