PADI Discover Scuba Diving Havelock Island
When you are diving for any certification then you must go with PADI Discover Scuba Diving Havelock program as you will be getting a Certificate from the well known institute . A PADI DSD diving at Havelock is done at the Nemo beach . Explore every bit of the reef with this Dive and you will have more time inside the water, compared to normal tri dives like Shore Diving or Boat Diving. For the dive we will be going to spots away from the shore
Key Points for PADI Discover Scuba Diving Havelock:
Extra Training time

45 minutes - 60 minutes underwater time 

Learn all skills of Diving

No Swimming Skill

Required

PADI Certificate is given after the completion of Dive

Discover Scuba Diving Havelock is for 1st timers and also for professionals
Transfers will be in

Diving

Boat

Should be above 12 years of age to perform Discover Scuba Diving
More adventurous than Tri Dives at Shore or by Boat
Avoid Heavy Breakfast
Starting and ending point of the Discover Scuba Diving program will be Nemo Beach shore
Exploring the entire coral reef of Nemo beach
Training at the shore of Nemo Beach
Personal PADI licensed Scuba Diver
Underwater photographer for photos and videos
Photography is done with

GOPRO Underwater Camera

Flight time and Diving should have a difference of at least 24 hours
No major surgery should have taken place for at least an year
Heart problems are not entertained
Must not have Blood Pressure issue
Travelers with Sinus problems are not allowed
Dive Spot for PADI Discover Scuba Diving Havelock :
Depth: 12 m
Level: Beginners & Semi Pro
Reef: Nemo Beach
Place: Havelock
Type: Boat Dive
Guide:  1 Dive Master & 1 Photographer
About Reef :
Havelock island's Nemo Beach is the place for all kinds of Diving needs due to its extensive reef spread. Not to mention, the reef is big here and that it cannot be covered within a few hours of dive. A first-timer would need many hours of dive without a doubt. We will access the reef for our DSD in a Diving Boat. The reef starts from just 5 m of depth and range till 12 m. In order to explore the best reefs near to the Nemo beach, Discover Scuba Diving is the best option
Time Division of the PADI Discover Scuba Diving Havelock:
Diving Training time: 30 minutes
Boat Transfers : 20 minutes + 20 minutes
Underwater Session : 45 minutes to 60 minutes
Miscellaneous: 60 to 80 minutes
Total Time: 3 Hours
Best Time Slots For Discover Scuba Diving Havelock:
Early morning: 6.00 am – 9.00 am
Morning: 8.00 am – 11.00 am
Before Noon: 10.00 am – 01.00 pm
Equipment's You Will Be Provided By Scuba Diving Centre: 
BCD (Buoyancy Control Device)
Speed Boat
Dive Computer
Compass
Regulators
Cylinders
SMBs/ Markers
Masks
Fins
Wetsuits
Weight belts
Booties
TRAVELLERS RESPONSIBILITY
All the travelers who are opting for Discover Scuba Diving Havelock will be requested to abide in accordance with the rules & regulations formulated by the PADI.
Before the activity begins, adventurers must let their instructors know if they have any medical conditions that could affect them on water.
Listen to the Training and Briefing carefully from your instructor.
Don't sit by the edges of boat before and after the dive until unless instructed
DEKHO ANDAMAN PROMISE
Don't worry about the cost of diving in Andaman Nicobar Islands. Just dive with us to get the best  Discover Scuba Diving Experience in Andaman and Nicobar Islands at the Best price. We ensure hassle-free service and give you the best instructors who are certified from PADI and SSI to make your dive a memorable experience.
.
Explore:
In the evening before dive, instructor will  come to meet you at your resort
(All the briefing session will be held on this day evening post sunset at your preferred tinning)
Instructor will make you aware about the Dive Centre, will give you small session on training procedure and health conditions required
The talking session will last for maximum half an hour and he will leave
Note: Taking the briefing session one day prior to dive is mandatory
DAY 2 Training and Diving
You will be picked up from you resort in Havelock island and the driver will take you to our selected dive center. If you are having a 2 wheeler you can ride on your on your own  for which instructor will give you the location details
The instructor will greet you. And you will be made to fill the medical form as briefed by the instructor earlier
The Ground staff will hand you over Wetsuit and you will be asked to enter the changing room to remove your clothes and wear the wetsuits above your undergarments.
We will head to the Nemo beach in a Cab where our training session will be taken place.
You will asked to write your name in the log book at the counter of Boat Diving and after that a Dive Master will be assigned to you.
After you enter into the shore waters you will be made to wear BCDS, masks and weight belts, properly guided by the Dive Master with the help of a ground staff. You will learn how to breathe underwater using these items. After practicing this for a while, you will be taught hand signals by the dive instructor.
In the PADI Discover Scuba Havelock program training, the divers will also Equalizing followed by Mask clearing and underwater Regulators shifting, closely monitored by instructors.
After the completion of training successfully, we will get on to the boat located at shore.
The boat will start its journey towards the reef with the group which can be: Tribe Gate, Light house etc. It will take 20 minutes max to reach to the coral reef spot. The Dive master will wear its kit and jump into the ocean.
You will be then ask to sit at the edge of the boat. The Crew member of the boat will then put the BCD with Cylinders at your back, and equip you with masks, regulators, and fins. A BACK FLIP is what you got to do to plunge into the ocean. Some boats have a ladder attached to help you get down from the boat.
Once you are on the water you will start to float. The Dive Master will come and make you stable to get you ready as we are about to go inside the water.
Gradually you both will descend inside the water with the help of BCDs
The underwater diving in havelock will last for  45 minutes where you will explore some the untouched marine life of Andaman islands
The cameraman will be taking your photos at various points. A minute video will also be shot and given complimentary
You will be then slowly ascended above and with the help of ladder you will get back to the boat.
 Crew members will help you with the handling of equipment's and now you can relax for a while sitting on the chairs of the boat enjoying the limitless adventure session of your scuba dive.
The boat will head back towards the shore
We will then return to Dive Centre where you can have a shower. Change up your clothes in the same changing room & collect your photos , videos
Get your PADI Certificate on the spot
You will be dropped back to your resort
All Diving Equiplments

PADI Affiliated Dive Masters

Underwater Photos & videos

Ertiga cab for resort pickup and drop

Guidance of Dekho Andaman Team

Cab for Dive Centre to Nemo Beach & vice versa

Underwater Session of 45 - 60 minutes

PADI DSD Certificate

Boat Transfer to and fro
Booking Policy
Payment shall be made as per the payment schedule:
10% of total cost for booking to be paid
90% remaining amount to be paid before the activity starts
Though we encourage our clients to pay the maximum amount to avoid any hindrance and unwanted delays in the trip once it began
Payment can be made either online via:
Credit cards issued by banks and financial institutions that are part of the Visa &Master Card .Other international cards are also acceptable
Visa & Master Card Debit cards for Indian Travelers;
UPI (PhonePay, Gpay, PayTm)
Net banking (NEFT or IMPS)
Please check the Confirmation Policy and Cancellation policy below
Cancellation Policy for PADI Discover Scuba Diving
If you cancel the Activity service you booked, cancellation fees will apply. A cancellation will only be effective when we receive written confirmation or email or Watsapp of the cancellation. If you cancel a trip:
Before 24 hours  – No amount will be deducted & you will receive your entire amount
Between 0 - 24 hours – 50% of the deposited amount will be deducted
Confirmation Policy
After the confirmation of package via email or WhatsApp , the customer will ask to deposit the initial amount of 50% of the total amount 
A confirmation voucher will be generated and send to your respective email or WhatsApp  once initial the amount is received. Confirmation voucher will be in PDF format and it will have your Diving ID , Diving Point , Diving Type & Name of Diving Instructor and the amount you paid .The balance amount mentioned has to be paid as per the terms
"Pay Only after arrival"
Pay a token amount and confirm your tour without getting worried about the last minute cancelations. 
"Flexible Trips"
No need to follow strict schedule on Touring days. All the activities and tours are easily flexible as per the client needs.
Why Travel with Dekho Andaman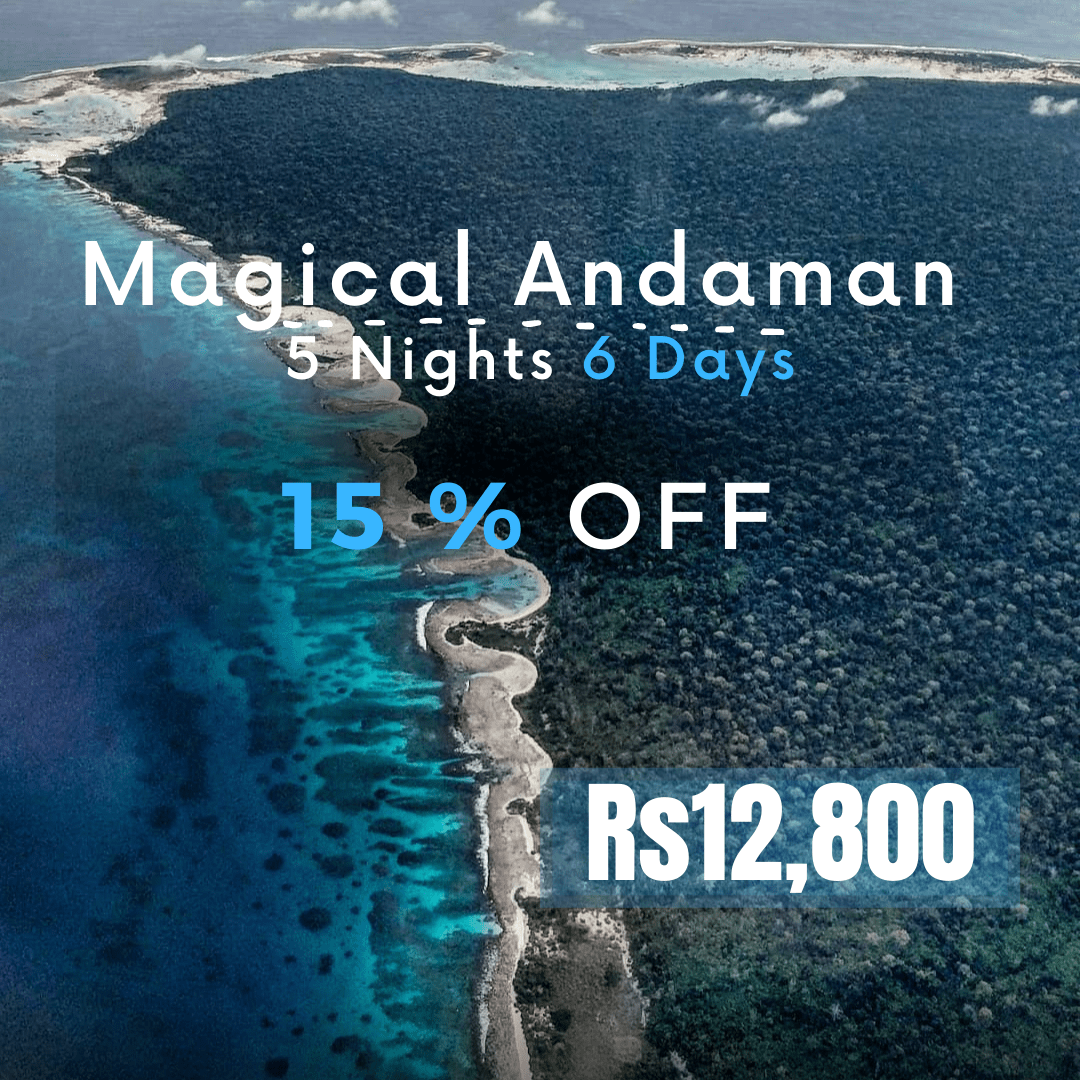 This is the heading