Locked in Havelock 4 NIGHTS 5 DAYS (LUXURY)
HIGHLIGHTS
Explore the rich and unique history of Andaman with Dekho Andaman

Beach resorts

in Havelock &

Premium Sea View Hotel

in Port Blair
Learn about the history of freedom struggle
Experience

Private Cruise

from Port Blair to Havelock & Havelock to Port Blair
Elephanta beach excursion in speed boat
Observe the beautiful corals of Andaman with a Snorkeling session
Beautiful Sunset of Radhanagar beach & Sunrise of Kalapatthar Beach
Play in flour like White sands of Havelock
Bath in the purest and bluest of Waters in Havelock Island

Dinner setup with candle lights

on the private beach of resort

Shore Scuba Diving

with Professional Guides
Get clicked with professional underwater photographers
Ride the powerful

JET SKI

water scooters
Discover the beauty of Havelock in 2 Wheelers
Get lost in the atmosphere of British era of Ross Island
Indulge yourself in various surface and underwater sports
BRIEF ITINERARY & LOCATIONS
Night 1- Havelock
Jail + Cruise- Havelock
Night 2- Havelock
Elephanta Beach + Jet Ski + Snorkeling (2 Wheeler)
Night 3- Havelock
Scuba Dive + Candle Light Beach Dinner (2 Wheeler)
Night 4- Port Blair
Kalapatthar Sunrise + Cruise- Port Blair + Ross Island + Light and Sound Show + Shopping
Day 5- Departure
Note: If Jail is not covered on Day 1 due to late arrival then, it will be scheduled for Day 5 before departure
Note: On day 2 & 3 you will be provided with a 2-wheeler to give your freedom of exploring on your own
ACTIVITIES ADD ON
Candle Light Beach Side Dinner
Scuba Diving
Jet Ski Ride
---
Accommodations
(LUXURY)
Dolphin Beach Reort / Ocean Tree Beach Resort (Havelock)
Studio / Deluxe Cottage - 3 nights
Olive Suites / Mansha Regency (Port Blair)
Suite / Deluxe- 1 night
DAY 1 Jail Visit & Cruise to Havelock
(Note: Arrival time to Port Blair should be on or before 10.00 am)
Pickup from Airport after you arrive Take you to Cellular Jail at 11:00 am, to witness the stories and struggle of our brave freedom fighters.
Spend your time till the Jail for an hour(12.00 pm)
Drop to Chatham Jetty. The Cruise to Havelock Island leaves at 02:00 pm from Chatham Jetty. The cruise reaches Havelock Island by 3:30 pm.
Our driver will pick you up at the entrance of the Jetty and drop you at the RESORT
You can relax and enjoy the resort for the entire evening , if interested you can visit some good sea side restaurants of Havelock in the evening or you can explore the night life of Havelock
Note: Jail if missed can also be covered on the day of Departure depending upon your departure timing which must be after 12.00 pm on Day 5
DAY 2 Elephanta Beach & Activities
(NOTE: We can reach ELEPHANTA BEACH via trek as well)

Elephanta beach is not an island and is a part of main island of Havelock itself but it cannot be reached via cabs/bikes. Trekking and Boats are the only option. You can find majority of the Water activities on here excluding Scuba Diving
Start to Havelock jetty at 10.00 am after breakfast & park your 2 wheelers in the parking area. Our staffs will meet you over there & get you on the speed boat.
As soon as we reach, we get down from the boat on a floating Jetty at the shore our crew members of boat will guide us for a Complimentary Snorkeling session which will be for 15-20 mins.
We will also perform JET SKI ride for 10 minutes provided to you by Dekho Andaman.
Then you can go ahead for some other paid activities like Sea Walk, Parasailing etc. We will be having 3 hours to spend in this beach &then Return back to Havelock jetty by 03.30 pm in the same speed boat
Explore Havelock in your 2 Wheeler

At night 7.30 pm a special Honeymoon Candle Light Beach Side dinner will be arranged in the private beach of your resort. The serving will be as per La Carte & you will provided with a menu to select food of your choice. Both veg and Non Veg options will be available
You can finish the dinner by 11.30 pm.
Note: Candle Light Dinner can be shifted to next day as per clients request 
DAY 3 Scuba Diving & Havelock Sunset
Early morning you will be picked up from the resort and taken to the respective Dive Centre and you will be ready for SCUBA DIVING.
We will be made to wear the wetsuits and then we head to shore water for Training
Accompanied by professional Dive Master we will take you inside the water. Come out after 30 minutes. Collect photos & videos.
Drop back to Resort after the completion of diving activity.
You can explore Radhanagar Beach of HAVELOCK ISLAND in Your 2 Wheelers
Radhanagar beach ranks highly amongst the most beautiful beaches in the world. It is also certified as Asia's best beach with a Blue Flag Certification. The beach has ample changing facilities. However, there are no water activities at this beach due to the sensitive nature of the marine flora and fauna. 
Explore the Havelock Island on your own
DAY 4 Back to Port Blair & Ross Island
SUGGESTION: You can visit KALAPATTHAR BEACH for sunrise
After Breakfast Checkout at 8.30 am & drop to Havelock Jetty
Cruise to Port Blair Island at 10.30 am, Reach by 12.30 am
Come out from the jetty, our driver will receive and take you to your hotel. Reach Hotel by 1.30 pm
Board the speed boat & Sail to Ross Island. Reach Ross Island by 02.30 pm, famous for its British Structures, on a Speed boat.
Ross Island is under Defense Department Occupation and offers history on a platter. You can visit British Bakeries, old Theaters, and a thrilling pre-world war British Graveyard. It is also home to peacocks, Deers, rabbits among other wild animals.
 Note: You can get on to the GOLF CART present on the island for exploring
After spending a couple of hours at Ross Island, the boat will take back to water sports complex we will reach here by 04.00 pm.
Later in the evening, drive to Cellular Jail for the famous Light and Sound show and witness the stories of struggle and grit of our freedom fighters.
Drop back to hotel
Check out after Breakfast at 9.00 am
Drop to Airport
Accommodations as mentioned

Breakfast 2 Adult (4 days)

All sight-seeing programme as mention in the itinerary.

Resorts & airport pickup-drop in all islands

COMPLETE DEKHO ANDAMAN GUIDANCE & SUPPORT

Light n Sound Show entry tickets

All entry tickets, Light n Sound Show, ferry/cruise/boat tickets, permit charges, parking charges included in package.

SCUBA DIVING in Havelock for 2 Adults with Photos & Videos

Jet Ski in Havelock for 2 Adults

Boat Tickets to Ross Island 2 Adults

On Arrival Bouquet

Candle Light Beach Side Dinner for Couple

Snorkeling in Havelock (half mask) 2 Adult

Boat tickets to Elephanta Beach 2 Adult

2 Wheelers for two days in Havelock

Cruise tickets to Havelock and back to Port Blair as Mentioned above in Itinerary 2 Adults (Nautika & MAKRUZZ)

All Transportation for sight-seeing tours, airport transfers, hotel, jetty transfers by including AC Vehicle at Port Blair, Havelock & Neil Island

If any visit is missed due to any administrative or other reason alternate arrangement incurring similar cost will be provided

GST is included for all services

24 x 7 Call Support & Guidance in every point

Vehicle in case of any emergency.
Flight Tickets to and from Port Blair.

Lunch & Dinner

Tips, Insurance, Laundry, Phone Calls and Camera Charges (still or movie).

Any Water Sports Activities / Adventurous Activity which is not mentioned in the Inclusions

Peak Season Surcharges of Hotels / Resorts (Applicable from 15th December to 20th January).

Additional Supplement Charge for Christmas Eve (24th December) and New Year's Eve (31st December) at Hotels / Resorts.

Anything that is not mentioned in the Package Inclusions.

Any kind of personal expenses or optional tours or extra meals / beverages ordered at hotel

Tips, Insurance, Laundry, Phone Calls and Camera Charges (still or movie).

Any kind of drinks (Alcohol, Mineral, Aerated, Bed Tea) or any other snack on Tour or while waiting at airport or waiting for ferry at jetty.

Any Water Sports Activities / Adventurous Activity (mentioned in the Optional Water Sports / Adventurous Activity) during your stay.

Peak Season Surcharges of Hotels / Resorts (Applicable from 15th December to 20th January).

Additional Supplement Charge for Christmas Eve (24th December) and New Year's Eve (31st December) at Hotels / Resorts.

Anything that is not mentioned in the Package Inclusions.
Booking Policy
Payment shall be made as per the payment schedule:
20% of total cost for booking or as discussed by our sales team (in our case Rs10, 000)
80% amount to be paid after arrival or before arrival (as per the client concerns).
Though we encourage our clients to pay the maximum amount to avoid any hindrance and unwanted delays in the trip once it began
Payment can be made either online via:
Credit cards issued by banks and financial institutions that are part of the Visa &Master Card .Other international cards are also acceptable
Visa & Master Card Debit cards for Indian Travelers;
UPI (PhonePay, Gpay, PayTm)
Net banking (NEFT or IMPS)
Please check the Confirmation Policy and Cancellation policy below
Cancellation Policy
If you cancel some or all portions of your booking, cancellation fees will apply. A cancellation will only be effective when we receive written confirmation or email or Watsapp of the cancellation. If you cancel a trip:
1. Before 30 days – 50 % of the deposited amount will be refunded
Between 10 days- 30 days – 25% of the deposited amount will be refunded
Between 00 day- 10 days No amount will be refunded
Tour cancellation amount includes Cruise, Accommodations, Cabs, Water activities, Tour Guides & all the other charges already included in the tour at the time of booking
Confirmation Policy
After the confirmation of package via email, the customer will ask to deposit the initial amount of 20% or as discussed by our Sales team.
A confirmation voucher will be generated and send to your respective email once initial the amount is received. Confirmation voucher will be in PDF format and it will have your booking id and the amount you paid .The balance amount mentioned has to be paid as per the terms
"Pay Only after arrival"
Pay a token amount and confirm your tour without getting worried about the last minute cancelations. 
"Flexible Trips"
No need to follow strict schedule on Touring days. All the activities and tours are easily flexible as per the client needs.
Why Travel with Dekho Andaman
How much extra money should I have with me for the trip besides the tour package?
All the important things are generally covered in the package. Besides that facilities like lunch, dinner, and water sports activities are not included in the tour package. So, it all depends on your preferences regarding these facilities. If you wish to avail of these services then you should carry the extra amount of money accordingly.
How many days are required to plan a perfect Honeymoon vacation in Andaman?
5 nights and 6 days is the most preferred package by tourists. However, in case of availability of time, you can also opt for 7 nights and 8 days or 8 nights and 9 days package. If you prefer choosing these packages you will tend to experience more leisure time.
Can I make the payment after arrival?
As per the Booking policy, 20% of the total cost for booking shall be paid before arrival. The rest 80% can be paid before or after arrival as per your flexibility. Although it is advisable to pay a major amount before arrival to avoid any unwanted delays or hindrances. Any mode can make the payments of online payment or net banking.
Can I use the cab beyond my itinerary in Honeymoon Andaman Package?
The cab will be available only from one point to another point pickup & drop. The cab won't wait for you and will be free after it drops you to one place. You can call the driver anytime to come, once you finish up with place of your visit. You will have to pay extra if the cab is used outside the mentioned itinerary
What happens if we miss out on any place mentioned in the itinerary?
Generally, there won't be any situation where you miss out on any place. Such a situation may arise only if there is any restriction by the government or unavoidable circumstances like heavy rainfall. In such a case, we would plan alternatives for the same. If you don't wish to proceed with that alternative you can get a refund for the same.
What is the refund process if I am cancelling my Andaman Nicobar Honeymoon tour?
If you wish to cancel your tour, it will generally take 5-6 days from our end to verify the data and process the refund.  Also: 1 Before 30 days- 50% of the deposited amount would be refunded 2 Between 10 to 30 days – 25% of the deposited amount will be refunded 3 Between 00 days to 10 days- No amount will be refunded
What is the starting point in our Andaman Honeymoon Package?
Our tour will start once you reach the airport. Upon arrival at the airport, you will be taken to the hotel by our representative or staff. From the moment you arrive at the airport, our tour package will begin and we will provide you with all the required services and facilities until you are dropped back off at the airport.
What are best places to visit in Andaman for honeymoon?
The best places to visit Andaman for your honeymoon are: 1  Havelock Island 2 Neil Island 3 Port Blair 4 Cellular Jail 5 Ross Island Since it is Andamans, beaches must be the priorities:
Radhanagar beach
Kalapatthar beach
Elephanta beach
Laxmanpur beach
Bharatpur
Chidyatapu
Corbyn's Cove
Then there are caves, mangrove creeks, sanctuaries and the list goes never-ending because of the beauty of Andaman. But these are the topmost preferred places you should ever visit.
Why to select Andaman as your honeymoon destination?
The Andaman Islands are the perfect destination for a honeymoon. With nature's beauty, beach resorts, sightseeing views, date nights on the beach, and sheer calmness, you get to spend more time with your loved one. A newlywed couple wishes to go to a place that is beautiful, calm, , relaxing, and less crowded. Hence, Andaman serves all your interests by providing a luxurious and exciting honeymoon. The most fascinating moments of the tour are amongst the underwater activities which includes sea karting, Scuba Diving, Snorkeling, Parasailing, Boat Diving, Sea walk, Jet- Ski and much more.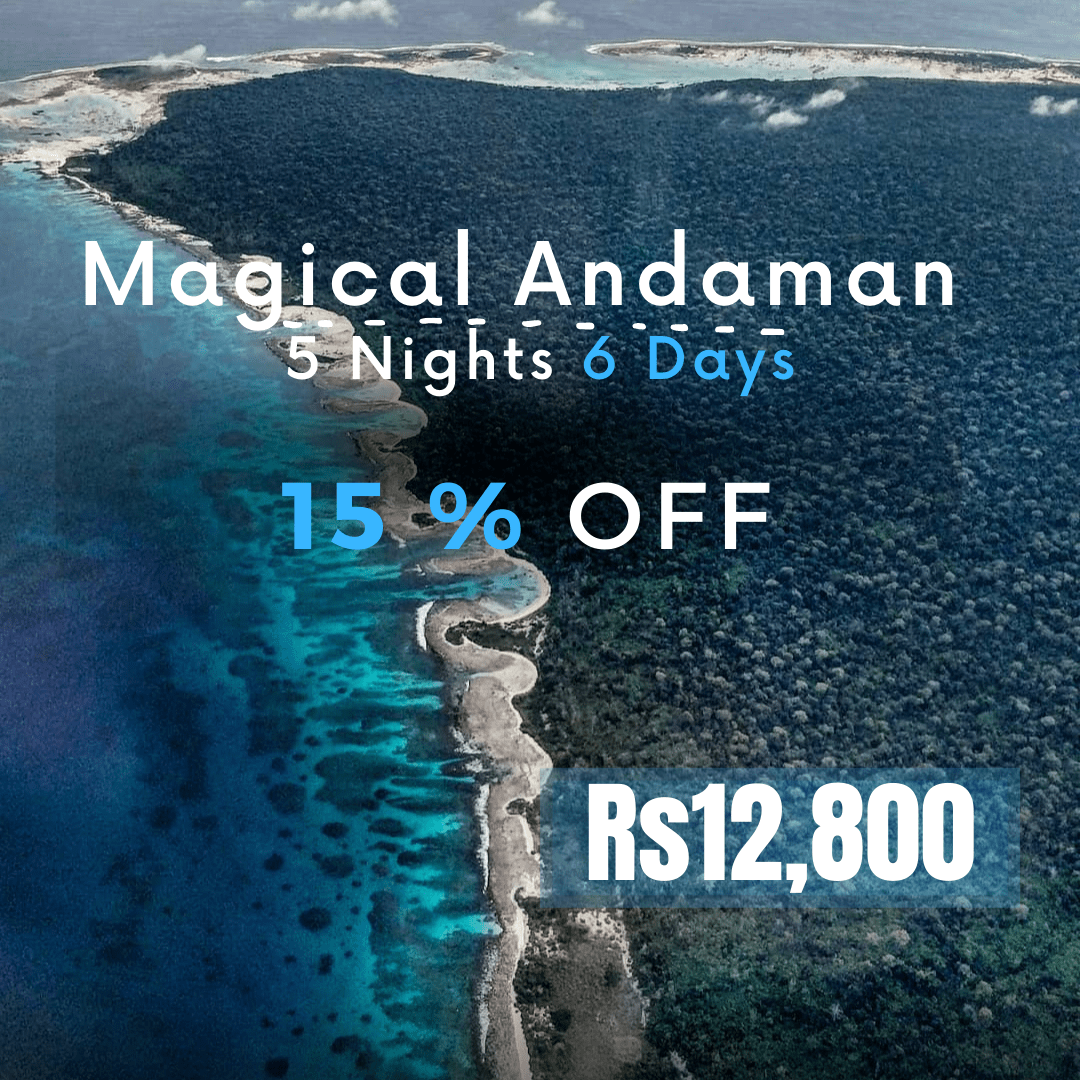 This is the heading