6 NIGHTS 7 DAYS Andaman Adventure with Water Sports
6 nights and 7 Days Adventure Tour of Andaman covering first night in Port Blair , 2nd and 3rd night in Neil island, 4th to be spent in Havelock and again return back to Port Blair for last 2 nights
How Adventure Trip different from Honeymoon or Family Tour?
An Adventure Tour of Andaman is completely different from an usual tour. Dekho Andaman Adventure tour focuses purely on Water Sports and activities where other tours are more of a relaxing and family time kind of thing.
We have been organizing this kind of tour since 2019, where travelers would enjoy outside of their bed learning and performing various sports. We have done many group tours from Mumbai, Bengaluru and many other cities of India
It's not only about water sports but also about getting closer to nature and having fun with your friends and family.
Water Activities We Will Involve In :
Sea Karting in Corbyn's Beach
Sea Kart are a small hovercrafts with powerful engines that can excel up to a speed of 60 nautical miles per hour. This is one of the most unique activity you will be performing. The thrill and excitement of Sea Karting is way beyond those speed boat rides. You will almost feel like flying on the water. Yes ! You will also get a chance to drive this beast for ew minutes. The Sea Kart drive will be for 30 minutes starting from Corbyns Beach , going 3 - 4 miles into the wild ocean and returning back.
Jet Ski in Neil Island
This is one of the easiest ride of our tour. It just wants you to sit on the jet scooter , That's it! You just have to sit and hold on to the handle of the machine to enjoy the ride. Its one of the most preferred activity among al the travelers. This ride will last for 7 minutes . We will be doing this activity at Bharatpur Beach
Banana Ride in Neil Island
You just have to sit on the banana boat, hold on to a rope/ handle and enjoy the ride in the sea  until the boat master of Jet Ski or speed boat tries a drift and you are in the water. This just a fun activity you will be enjoying inNeil island waters. The banana boat will have 4 people on it. After you made to fall in the water , the crew member of the boat will guide you back to the banana boat and you will brought back to shore. You will be floating on the sea with a Life Jacket
Glass Bottom Ride in Neil Island
Glass Bottom ride is a simple way to enjoy the coral reef in bluest of water at Neil Island . You will accompanied by 9 other people plus 2 boat crews on a 10 + 2 glass bottom boat . The ride will last for 20 minutes. Its starting and departure point will be Bharatpur Beach. Though there are various other places where you can do this ride, but the turquoise blue waters of Neil island makes Glass Bottom ride the perfect activity to be preferred here.
Shore Scuba Diving in Havelock island
There is no other activity come closer to Scuba Diving if you are looking for a adventure experience. Witness the unexplored marine world of Havelock island with the help of  Scuba Diver. The underwater session will last for 30 minutes. The coral reef can be found all around Havelock and Nemo beach is one of the favored spot because of long stretches of reef . The starting point will be the Dive Centre and departing point will be the Nemo Beach  and then again returning back to the Dive Centre
Sea Walk in North Bay
Sea Walk is a smaller version of diving but it involves walking at the sea bed . The breathing process here is very easy because you will be made to breath via a big helmet that's fits easily on your upper part of the body. The depth will not be more than 5 m and its done from a pantoon. We will reach pantoon in a speed boat. The underwater time will last for 30 minutes guided by a diver.
Snorkeling in Elephanta Beach
Snorkeling is a great way to experience the underwater world of Havelock island without having to dive. The snorkel tube is basically a breathing tube that allows you to breathe while submerged in the water. Guided by a Snorkeling master you will explore the waters on a Lifebuoy wearing the snorkeling kits for around 20 minutes. The activity will be done at Elephanta beach.
Parasailing in Port  Blair
Parasailing in Andaman is something which is not related to water and its all about flying . In this activity you will be made to tie up with a Parachute which will be attached to speed boat. The air time will last for 7 - 10 minutes . This activity will take place in he middle of the ocean where there are no boats and the sea completely empty making your exepericne more fabulous. You will be accompanied by 10 more passengers on the boat
Night Kayaking in Port  Blair
Night Kayaking is a very different activity which will give you a memory of a lifetime. The dark night glowing by the blue waters is something extraordinary to see that too in the mangroves . You will be accompanied by Kayak instructor and also some millions of stars will join you on this expedition. The activity will last for an hour until you get back to the starting point which will be Veer Savarakar Park Jetty
BRIEF ITINERARY AND LOCATIONS
Night 1- Port Blair (Jail + Corbyns Beach)
Sea Kart /Night Kayaking / Cab 
---
Night 2- Neil (Neil + Bharatpur Beach + Laxmanpur Beach)
Cruise Transfer / Jet Ski / Banana Ride / Cab 
---
Night 3- Neil (Natural Bridge + Bharatapur Beach )
Scuba Diving /Glass Bottom Boat /  Cab
---
Night 4- Havelock (Havelock + Radhanagar Beach)
Cruise Transfer /  Cab
---
Night 5- Port Blair (Kalapatthar Beach +Elephanta Beach)
Snorkeling /  Boat Transfer / Cruise Transfer/ Cab
---
Night 6- Port Blair (Ross Island + North bay + Cellular Jail)
Sea Walk / Parasailing / Boat Transfer / Cab 
---
Day 7- Departure
---
Information:
The travelling date:  2022
Minimum no. of person: 1 Adult
Meal Plan: CP Plan (breakfast included)
Private Vehicle - : Ertiga
Note: Additional vehicle will be provided for carrying luggage to hotels/resorts from Airport and as well as Jetty
Ferry for transfers
Port Blair to Neil in Govt. Ferry
Neil to Havelock Island in Govt. Ferry
Havelock to Port Blair in Nautika
Precautions: 
All travelers will have to complete training before performing activities
The travelers are requested to fetch correct information about their health before booking the trip
The 7 Days Adventure trip involves a lot of Water Activities , it might drain your stamina and you must eat good food after finishing any of your activity to keep your energy level on
Heart Patients wont be allowed to take this tour
High Blood Pressure patients wont be allowed to take this tour
Travelers with sinus wont be allowed as you might feel difficulties while breathing underwater
You must Listen to your instructors carefully
Since this can be a group tour you will meet a lot of strangers too
Since we are doing most of our activities in Neil, your phone will be out of Network for more hours
Accommodations
(STANDARD)
Sea View Residency / Salt Life  (Port Blair)
Premium- 1 night
Tango Beach Resort (Neil)
Standard- 2 nights
Blue Waves Beach Resort(Havelock)
Studio - 1 night
Grand Paradise (Port Blair)
Deluxe - 2 night
Pickup from Airport Drop to Hotel
Take you for Corbyns Beach at 2.30 pm to explore some water activities and enjoy the beach snacks. It will be a marine drive from your Jail till the beach
Sea Kart will be pre booked and you will be trained before performing this activity which is only present only in 3 countries of the world
Complete the activity which is half an hour experience and return back to beach guided by the staffs of Sea Kart Adventure & our representative almost by 4.00 pm
Then you can relax for a in the beach enjoying the sea and the sound if waves
We will start at 7. 00 pm and take you to Veer Savarkar Park locaetd in Chouldari (15 km from Port Blair) for Night Kayaking
You will be guided with an Kayaking instructor and get to roll the kayaking for 40 minutes witnessing the Bioluminescence
Return back and we start back to hotel resort by 9.00 pm
Checkout in the morning before breakfast for Ferry to Neil island
Drop to Port Marine dockyard at 05.30 am
Ferry to Neil at 06.30 am, reach by 08.30 am
Greet you & drop you to the resort
Head to Bharatpur Beach which will be 5 mins from the Resort
Here we will take you to the counter of water activity where you will be asked to fill the form for Jet Ski & Banana Ride
First we will make board the Jet ski (2 seater water scooter) and you will have an enchanting and at the same time thrilling experience of this supercool machine for 10 minutes
Jet ski will ply at a speed of 40 to 50 nautical miles on the surface of the sea
Come back to Beach relax for a while and then we hop on to the Banana boat. It will be tied up & will be pulled by a speed boat with driver
You will be made to wear Life Jacket
You got to hold the handle present on the body of the BANANA BOAT and after a going a little far away from the beach into the sea , your boat will be toppled by the rope attached to the speed boat making you fall into the water. The crew will come and guide you back to your banana boat
Return back to the beach
You will finish all your activities by 2.00 pm
Have your lunch & head to view the sunset at white sand Laxmanpur Beach
back to resort by 7.00pm
Scuba Diving | Natural Bridge | Glass Bottom Boat 
Get ready for an unexplored world of Ocean , as a Scuba Diving session will be eagerly waiting for you
Drop to one of our tied up Dive centers near to Bharatpur beach around 7.00 am
The dive masters will greet you and ask you to change the clothing ,
You will be provided with Wetsuits & Booties and guided to the changing room.
Dress yourself and then the Diving Instructor will come and greet you
We will have a briefing session of 25 to 30 minutes. You will be taught about various underwater marine life and breathing exercise
The dive masters will make you wear the masks, Buoyancy Control Device and weight belts above the wetsuits
Our diving session will be guided by Dive Masters and it will last for 40 minutes
Collect your photos and driver will drop you to resort around 09.30 am
After breakfast and we shall keep your luggage in the reception of the hotel
Drop to beach No.2 for sight visit of Natural Bridge at 11.30 am
Reach Natural Bridge by walk around 01.00 noon
Return back to starting point by 02.00 pm
Drop you to Bharatpur beach where you can have lunch in shacks and restaurants nearby. The Bharatpur beach is located just adjacent to jetty so this is our preferred point of drop for Cruise back to Port Blair as well
After lunch we will perform Glass Bottom ride to witness the amazing corals of Neil island
Pick you up and drop to resort
Cruise to Havelock Island
Cruise/Ferry to Havelock at 10.00 am
Reach Havelock Island in an hour by 11.00 am
Drop to resort
Pickup you up post lunch and drop to Radhanagar beach (certified as Asia's No.1 Beach with Blue Flag Certification) where you can swim or spend your leisure time enjoying the sands of beach
View the sunset and return back to your resort by 6.30 pm
Kalapatthar Beach | Elephanta | Snorkeling | Ferry to Port Blair
Post breakfast after check out we head towards Kalapatthar Beach one of the calmest beach in Havelock island.
Enjoy the whole morning in white sand and swimming in the emerald green water
After breakfast reach Havelock jetty at 11.30 am
We make you board the Speed boat to Elephanta Beach (20 mins journey)
Reach Elephanta by 12.00 am and you will be given a complimentary Snorkeling session of 10 minutes.
Enjoy in the beach for next 2 hours
Return back to Havelock Jetty from Elephanta by 2.30 pm
Cruise to Port Blair at 04.00 pm
Reach Port Blair by 05.30 pm
Drop to hotel
Drop to Water Sports complex at 09.00 am a boat trip to Ross Island (famous for its British Structures) for an historical experience
The same boat guided with master and crew will take you to the Coral Island of North Bay at 11.00 pm
Here we will be performing Sea Walk
A small speed boat will take you to the Pantoon of Sea walk which will be just 2 minutes from the shore of the North Bay beach
First you will be briefed for 10 minutes and you will be made to wear an helmet attached to a pipe for supply of oxygen. You will get down by the stairs attached to the pantoon into the ocean.
Accompanied with the diver you will be taken to the base of ocean (4 m depth)
Comeback after half an hour on to the pantoon
Collect your photos & videos from the counter
Then we will take you to the counter of Parasailing and make you fill the general health form
The staffs of this activity will take you to their boat standing attached to the North Bay floating jetty
The boat will heads towards the mid of the sea where you will be knotted with a Parachute while on the boat .Before we start flying, a small training of 5 minutes shall be briefed to you by the respective staff
You will have an on air time of 6-10 minutes
Return back to North Bay beach and get your photos and videos
Return back to Water Sports Complex on the same speed boat by 2.30 pm
Visit Cellular Jail at 3.00 pm
Drop back to hotel by 5. 00 pm
Check out after Breakfast at 9.30 am
Accommodations as mentioned

Breakfast for 6 days

COMPLETE DEKHO ANDAMAN GUIDANCE & SUPPORT

All sight-seeing programme as mention in the itinerary.

Resorts & airport pickup-drop in all islands

Snorkeling session in Elephanta (half mask)

Shore Scuba Diving with phots & videos

Glass Bottom Boat ride

Sea Walk with photos

Banana Ride

Jet Ski ride

Parasailing with photos at Port Blair

Night Kayaking in Port Blair

Sea Karting with photos

All entry tickets, ferry/cruise/boat tickets, permit charges, parking charges included in package.

All Transportation for sight-seeing tours, airport transfers, hotel, jetty transfers by including AC Vehicle at Port Blair, Havelock Island

Cruise (NAUTIKA/MAKRUZZ) tickets to Havelock, Neil & Cruise tickets to Port Blair

24 x 7 Call Support & Guidance in every point

GST is included for all services

Vehicle in case of any emergency.
Flight Tickets to and from Port Blair.

Lunch & Dinner

Tips, Insurance, Laundry, Phone Calls and Camera Charges (still or movie).

Peak Season Surcharges of Hotels / Resorts (Applicable from 15th December to 20th January).

Additional Supplement Charge for Christmas Eve (24th December) and New Year's Eve (31st December) at Hotels / Resorts.

Anything that is not mentioned in the Package Inclusions.

Any kind of personal expenses or optional tours or extra meals / beverages ordered at hotel

Tips, Insurance, Laundry, Phone Calls and Camera Charges (still or movie).

Any kind of drinks (Alcohol, Mineral, Aerated, Bed Tea) or any other snack on Tour or while waiting at airport or waiting for ferry at jetty.

Any Water Sports Activities / Adventurous Activity (mentioned in the Optional Water Sports / Adventurous Activity) during your stay.

Peak Season Surcharges of Hotels / Resorts (Applicable from 15th December to 20th January).

Additional Supplement Charge for Christmas Eve (24th December) and New Year's Eve (31st December) at Hotels / Resorts.

Anything that is not mentioned in the Package Inclusions.
Booking Policy
Payment shall be made as per the payment schedule:
20% of total cost for booking or as discussed by our sales team 
80% amount to be paid after arrival or before arrival (as per the client concerns).
Though we encourage our clients to pay the maximum amount to avoid any hindrance and unwanted delays in the trip once it began
Payment can be made either online via:
Credit cards issued by banks and financial institutions that are part of the Visa &Master Card .Other international cards are also acceptable
Visa & Master Card Debit cards for Indian Travelers;
UPI (PhonePay, Gpay, PayTm)
Net banking (NEFT or IMPS)
Please check the Confirmation Policy and Cancellation policy below
Cancellation Policy
If you cancel some or all portions of your booking, cancellation fees will apply. A cancellation will only be effective when we receive written confirmation or email or Watsapp of the cancellation. If you cancel a trip:
1. Before 30 days – 50 % of the deposited amount will be refunded
Between 10 days- 30 days – 25% of the deposited amount will be refunded
Between 00 day- 10 days No amount will be refunded
Tour cancellation amount includes Cruise, Accommodations, Cabs, Water activities, Tour Guides & all the other charges already included in the tour at the time of booking
Confirmation Policy
After the confirmation of package via email, the customer will ask to deposit the initial amount of 20% or as discussed by our Sales team.
A confirmation voucher will be generated and send to your respective email once initial the amount is received. Confirmation voucher will be in PDF format and it will have your booking id and the amount you paid .The balance amount mentioned has to be paid as per the terms
"Pay Only after arrival"
Pay a token amount and confirm your tour without getting worried about the last minute cancelations. 
"Flexible Trips"
No need to follow strict schedule on Touring days. All the activities and tours are easily flexible as per the client needs.
Why Travel with Dekho Andaman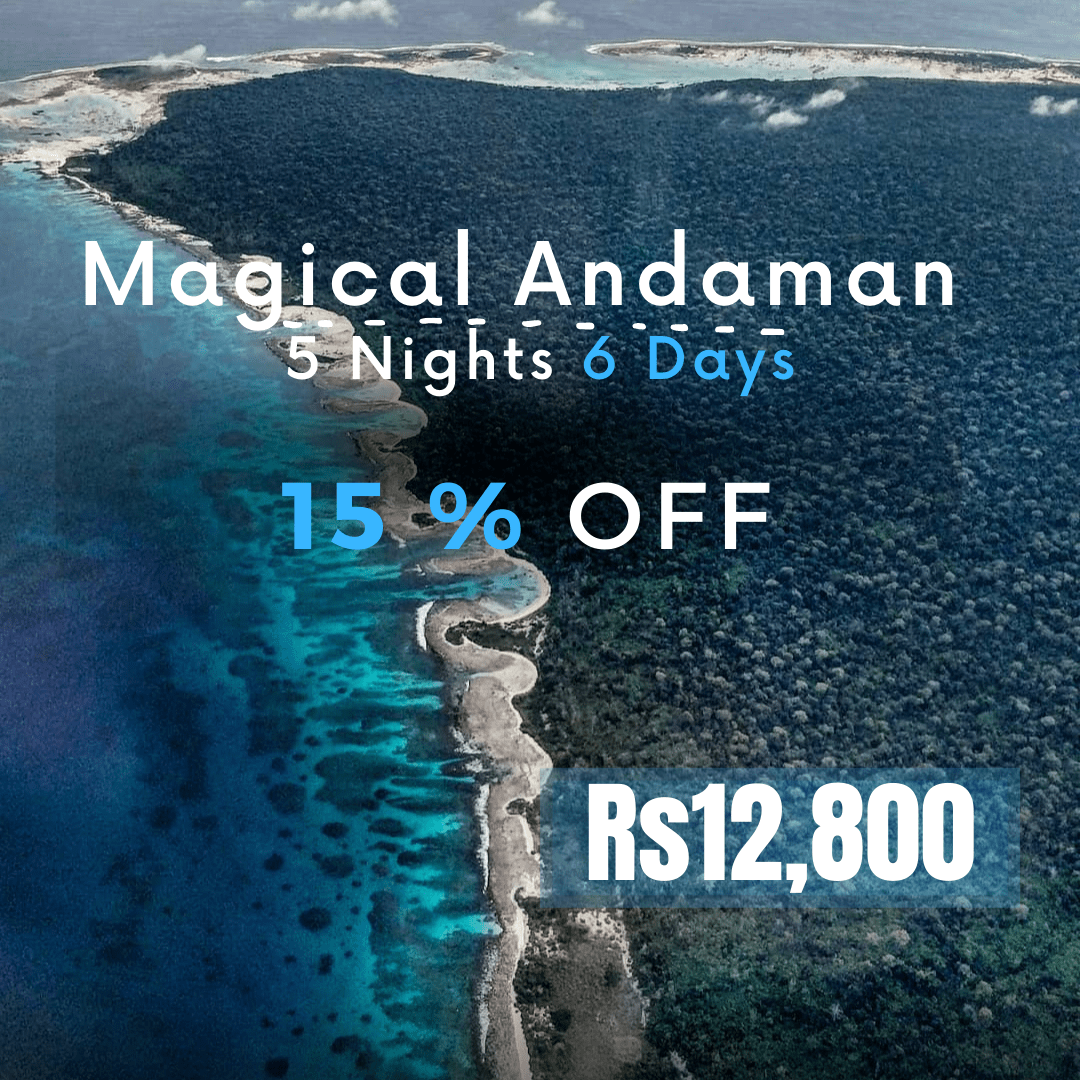 This is the heading